January 16, 2023
How's the new year going for you?
I had a slow start to the year. Settling back into the work routine, catching up on emails, etc.
But I finally finished the article I started writing last year! Let me know what you think.👇🏽
-Rachel
Our Favorite Articles 💯
✨  January And February Are Top For Hiring: 3 Ways To Set Yourself Apart (Forbes) ~ Jumpstart your job search today!
🌊  Laid-Off Workers Are Flooded With Fake Job Offers (WSJ) ~ Job seekers, beware of scammers but don't be discouraged.
💪  Getting Rid of Remote Work Will Take More Than a Downturn (NYT) ~ Remote work is not going away!
❓ 6 Questions Everyone Has About Working From Home (Remotive) ~ How I work from home without losing my mind.
---
This Week's Sponsor 🙌
Crush your New Year's Resolutions with this "atomic habits" app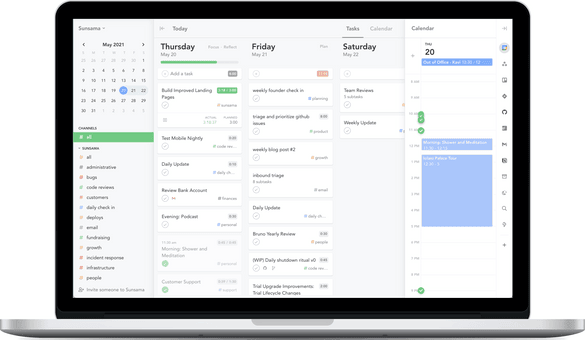 Sunsama is your new daily planning assistant to plan workdays that don't leak into personal time. Trusted by thousands at Uber, Spotify, and other "get-stuff-done" firms, Sunsama integrates your apps and tools, letting you drag-and-drop tasks to plan focused work sessions, carve out time for family or exercise, and more. Claim your 14-day free trial.
---
Remotive Jobs 💼
Is this job for you?
👉 Senior Solidity Developer at Proxify AB (Worldwide)
👉 Senior Front-end Developer at Proxify AB (Worldwide)
👉 Senior Independent UX/UI Designer at A.Team (Worldwide)
👉 Software Engineer - Customer Solutions at Discourse (Americas)
👉 Senior Full-stack Typescript Engineer at Tidler (Europe)
👉 Backend Engineer at SportyBet (Europe)
👉 Product Owner at SportyBet (Europe)
Check out our job board , listing 1,500+ remote jobs.
New to the remote job hunt? Register for our next webinar Tuesdays and Thursdays at 1pm EDT.
Discover Remotive Community : 1,902 members await...
Work with Remotive 🤝
We help tech professionals land remote jobs. Companies, find your next hire on Remotive .
Ready to land the job of your dreams? Get free resources, training, and more from Oyster's Global Employment Pass !
Check out Remote Health by SafetyWing - Global health insurance for freelancers & remote workers.
Looking to sponsor Remotive? Please reply to this email, slots still available for Q1! 🥂
Join the Remotive newsletter
Subscribe to get our latest content by email.