January 30, 2023
Haven't done a song parody in a while. (Hint: Song title rhymes with "powers".)
🎶 I can buy myself coffee. Sign into the group Zoom. Talk to myself for hours, with my headset unplugged.
I can take my own dance breaks. And I can manage myself. Yeah, I can work better at home, thank you! 🎶
-Rachel
Our Favorite Articles 💯
💡 Want to Stay Focused and Make Smarter Decisions All Day Long? Start Managing Attention Fatigue  (Inc) ~ The productivity hack you didn't know you needed.
🍭 Bosses Are Increasing RTO Requirements, But Experts Say It Won't Stick (CNBC) ~ "Good organizations will capitalize on the benefits of remote work..."
🤞🏽 Finding a Remote Job After You Got Laid-Off (Remotive) ~ Actionable job search tips from Remotive's founder!
😉 Elon Musk Is Now A Fan Of Remote Work (Forbes) ~ We knew he would come around eventually.
---
This Week's Sponsor 🙌
Remote work, with work-life balance - now possible.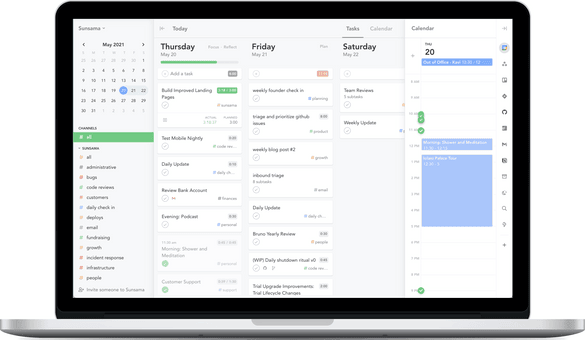 Sunsama  is your new daily planning assistant to plan workdays that don't leak into personal time. Trusted by thousands at Uber, Spotify, and other "get-stuff-done" firms, Sunsama integrates your apps and tools, letting you drag-and-drop tasks to plan focused work sessions, carve out time for family or exercise, and more. Claim your 14-day free trial.
---
Remotive Jobs 💼
Is this job for you?
👉Senior Full-stack Typescript Engineer at Tidler (European timezones)
👉 Senior Full Stack Developer at Proxify (Worldwide)
👉 Assistant General Manager at Established Titles (Worldwide)
👉 Information Security Engineer at SportyBet (Worldwide)
👉 Site Reliability Engineer at SportyBet (Worldwide)
👉 Android Developer - Java/Kotlin at SportyBet (Americas)
👉 IoS Developer - Swift at SportyBet (Americas)
👉 Frontend Developer at SportyBet (Americas)
👉 Backend Engineer at SportyBet (Americas)
👉 Software Engineer - Customer Solutions at Discourse (Americas)
👉 Head of Growth at Vialma (Americas, EMEA)
👉 Senior Software Engineer, Python at AssemblyAI (Americas, Europe)
Check out our job board , listing 1,500+ remote jobs.
New to the remote job hunt? Register for our next webinar Tuesdays and Thursdays at 1pm EDT.
Discover Remotive Community : 1,906 members await...
Work with Remotive 🤝
We help tech professionals land remote jobs. Companies, find your next hire on Remotive .
Looking to sponsor Remotive? Slots available for Q2! 🌱🌻
Join the Remotive newsletter
Subscribe to get our latest content by email.