I found my first remote job through the Remotive website, but do you know how I got hired at Remotive?
My ex-boss referred me to the founder of Remotive when I was in between jobs and he was in between employees.
You never know where or when your next opportunity will come.
-Rachel
Our Favorite Articles 💯
⚔️ ​How Remote Work Connected Amazon Employees Making $19 an Hour and $80,000 a Year​ (NYT) ~ If it's morally wrong then why are even the warehouse workers fighting to keep remote work?
🏋️‍♀️ ​Remote Work Does A Body Good​ (Forbes) ~ Remote work offers more opportunities for movement, especially in a post-pandemic world.
🙂 ​How to Turn a Job Rejection Into a Future Opportunity​ (LH) ~ A rejection can be the start of a beautiful (corporate) love story.
🍐 ​Your Career Is Not a Ladder. 2 Mental Models That Will Help You Be More Successful​ (Inc) ~ Think of your career as a garden. It's way less stressful.
---
This Week's Sponsor 🙌
Accommodation Deals for Digital Nomads & Traveling Remote Workers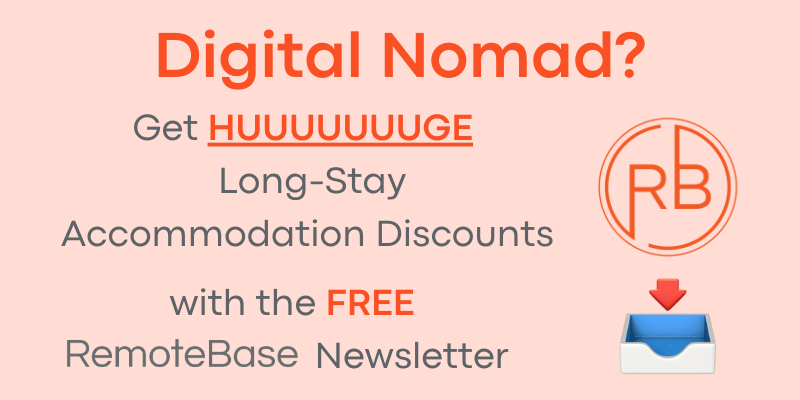 Dream of traveling alongside your remote job? Maybe you're already living nomad life? Finding decent places with hosts or companies you trust can feel impossible! Plus, accommodation is the biggest expense for digital nomads & traveling remote workers. That's why RemoteBase curates & shares top deals with their FREE newsletter. ​Get it here with a click!​
---
Remotive Jobs 💼
Is this job for you?
👉 ​Senior Unity Developer​ at Proxify (Worldwide)
👉 ​Senior Software Engineer​ at Vialma (Europe)
👉 ​Staff Accountant​ at Discourse (USA)
👉 ​Software Developer​ at Hashlist (France, Brazil, Poland, Italy, India)
👉 ​Frontend Developer​ at SportyBet (LATAM, Canada)
👉 ​Android Developer - Java/Kotlin​ at SportyBet (LATAM, Europe, Canada)
👉 ​iOS Developer - Swift​ at SportyBet (LATAM, EMEA, Canada)
Work with Remotive 🤝
We help tech professionals land remote jobs. Companies, ​find your next hire on Remotive​.
Looking to sponsor Remotive? Please email [email protected], slots still available for Q2!😀
Join the Remotive newsletter
Subscribe to get our latest content by email.