July 4, 2022
"You should never view your challenges as a disadvantage.
Instead, it's important for you to understand that your experience facing and overcoming adversity is actually one of your biggest advantages."
Michelle Obama, Former First Lady of the United States
-Rachel
Our Favorite Articles 💯
😊 3 Tips to Find a Remote Job During a Recession (Remotive) ~ Be persistent! It's still possible to find a job you love.
⚖️ Is Working From Home a Legal Right? (Fortune) ~ Two Dutch lawmakers say it should be; what do you think?
⛏️ Why You Must Ask Hard-Hitting Questions In The Job Interview (Forbes) ~ Don't forget: Interviews are a two-way street.
📉 Remote Work Could Ease Inflation (GO Banking) ~ Study shows remote workers are cheaper for companies. Who knew?
---
This Week's Sponsor 🙌
Productive retreats for remote teams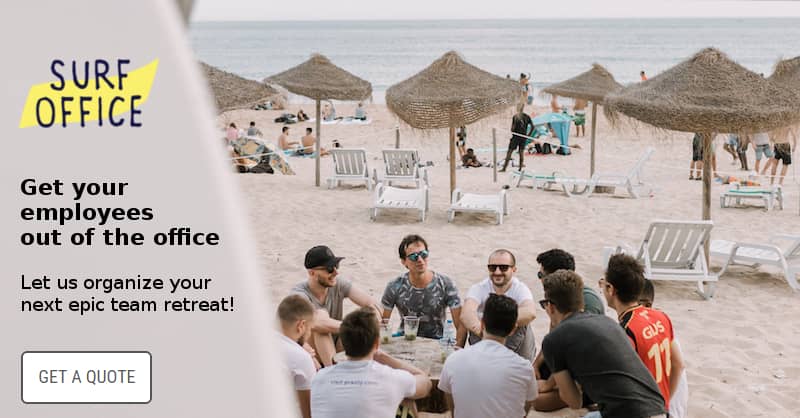 Kill the routine, get your employees out of the office and get ready for an experience that will give you a boost of team spirit.
Let Surf Office be your next offsite team-building experience. Whether it's for the whole office or simply a meetup with your remote team, our unique combination of work and play is sure to bring you and your employees closer together.
---
Remotive Jobs 💼
🎧 Head of Marketing at Karat Financial
⚙️ Senior or Staff Frontend Engineer at Close
👩‍💼 HR and Recruitment Officer at The Links Guy
⌚ Product Manager at Mimo
🎈 Senior Site Reliability Engineer at GoDaddy
💎 Software Engineer at Intergiro
🏗️ Core Engineer - Rust at Zcash Foundation
💻 Experienced Unity Developer at Mibo
👋 Senior Android Engineer or Senior iOS Engineer at Sendwave
🙂 Inbound Customer Service Representative at SC Data Center, Inc.
🎤 Software Engineer in the EMEA or the Americas at Discourse
⚽ BI Analyst, Backend Engineer, or Frontend Engineer at SportyBet
🩺 Lead Full-Stack Engineer at Onko Health
🌈 Senior Front-End Engineer, Engineering Manager, Senior Product Designer, or Senior iOS Engineer at Spline
Check out our job board, listing 1,500+ remote jobs.
Struggling with the job search? Register for our next webinar Tuesdays and Thursdays at 1pm EDT.
Discover Remotive Community: 1,836 members await...
Work with Remotive 🤝
We help tech professionals land remote jobs. Companies, find your next hire on Remotive.
Is your team ready for remote work? Oyster Academy is here to help.
Check out Remote Health by SafetyWing - Global health insurance for freelancers & remote workers.
Looking to sponsor Remotive? Please reply to this email, slots available for Q4‍! 🎁🥂