Working while traveling is not fun. (Sometimes, it's worse than working from an office. 😱)
Juggling 8 hours of work every weekday for 3 weeks while backpacking Europe is exhausting.
However, relocating to Italy for 3+ months and living like a local? That's fun. No fuss, no FOMO.
-Rachel
Our Favorite Articles 💯
🌎 33 Countries Offering Digital Nomad Visas in 2023 (Remotive) ~ Meet you in Colombia next month?
🙋 Interviewing? The Five Most Important Questions To Ask The Employer (Forbes) ~ "How soon can I start!?" is not one of them.
🤳 Bosses Are Training Employees To Be Influencers (Forbes) ~ "TikTok has become Gen Z's LinkedIn"
🤯 The Real Reason Bosses are Freaked Out By Remote Work (Insider) ~ Is it toxic masculinity and outdated patriarchal norms?
---
This Week's Sponsor 🙌
Get Curated Long-Stay Accommodation Deals & Save Thousands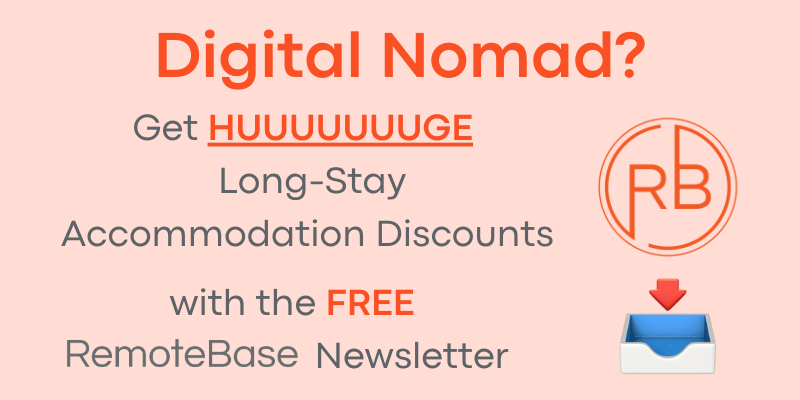 Dream of traveling alongside your remote job? Maybe you're already living nomad life? Finding decent places, with hosts or companies you trust, can feel impossible! Plus, accommodation is the biggest expense for digital nomads & traveling remote workers. That's why RemoteBase curates & shares top deals with their FREE newsletter. Get it here with a click!
---
Remotive Jobs 💼
Is this job for you?
👉 Senior Full Stack Developer at Proxify (Worldwide)
👉 Video Production at Plugin Alley LLC (Worldwide)
👉 Python Developer and AWS Manager at Easy Energy Inc (Worldwide)
👉 Video Animation at Spokn (Worldwide)
👉 Senior Software Engineer at Contra (Worldwide)
👉 Digital Marketing Manager at Skrapp.io (Worldwide)
👉 Senior Independent UX/UI Designer at  A.Team (Worldwide)
👉 Frontend and Backend Engineering at Conceptor.ai (USA)
👉 Sporty Group iOS Engineer at SportyBet (America timezones)
👉 System Administrator at Discourse (European timezones)
Work with Remotive 🤝
We help tech professionals land remote jobs. Companies, find your next hire on Remotive.
Looking to sponsor Remotive? Please reply to this email, slots still available for Q2!🌹
Join the Remotive newsletter
Subscribe to get our latest content by email.