So, what did we get up to in 2019? We had a solid year of growth. Beyond the numbers, here comes our yearly update:
TL;DR:
In 2019, I welcomed a CTO / business-partner, we re-built Remotive & hired.
We 2x our YoY Net Volume from Sales. We had a number of cold-requests for investing in Remotive/buying us out, we're not exploring it though.
We transparently shared all learnings on IndieHackers.
THANK YOU to our clients who posted jobs with us or joined our community.
Interested in the full story? Read up!
---
1) Welcoming Adrien, our CTO
During Christmas 2018, Adrien and I grabbed a beer in Lyon, France. We've been friends since High-school and both love working in tech... remotely!
He agreed to come on-board as Remotive's part-time CTO, which was very exciting. Welcoming a business-partner has been the single best business decision I made in 2019.
When he's not improving Remotive, Adrien is a Back-end Developer based out of Croatia.
---
2) Our new Job Board
We spent the next 3 months rebuilding Remotive from the ground-up, trying to design a better job board experience.
In April 2019, we launched! The community had great feedbacks for us, we gathered over 1,000+ points on ProductHunt.
---
3) Welcoming Vic, looking after Customer Success!
In the spring, Vic joined us part-time to look after all-things Customer Success & Operations. She lives in Buenos Aires, Argentina, and has been a Remotive subscriber since 2015!
She's been instrumental to our Job Board, Slack Community and Social Media presence. Having more time available helps me focus more time and energy on our growth.
---
4) Remotive Company Pages
Following the footsteps of awesome projects such as Keyvalues, we launched a directory of 2,400+ companies hiring remotely along with a premium tier.
The data has been well received, we learned a lot about remote employer branding and wish to improve in 2020.
---
5) Remotive Leadership Community
As a huge fan of FarnamStreet's Learning Community and Claire Lew's Watercooler, I felt we didn't have the right community for people who lead remote teams.
To bridge this gap, we launched Remotive Leadership, a Discourse forum where leaders can ask any questions and share thoughts.
Dozens of professionals joined us and are sharing tips and tricks!
---
6) Trying our Product Reviews!
Our friends at Fully sent me a Desk top review, I had a lot of fun shooting a video chatting about gear and ergonomics.
---
7) Finding our voice on Social Media
In 2018, I tweeted about remote work and got lucky, one of my tweets went viral (over ten millions impressions).
Many of our tweets & LinkedIn messages have done well, helping us build a substantial Social Media presence. I can't wait to go back to creating content in 2020...
Those three examples gathered over a million views each.
---
8) Remotive Cartoons
In the Fall, we started to work with Andrana to illustrate some of our top tweets! It's been great to have a visual support for our messaging, I even started to doodle myself.
---
9) Interviews!
I was lucky to do about 15 podcasts and interview, here's the key one with IndieHackers: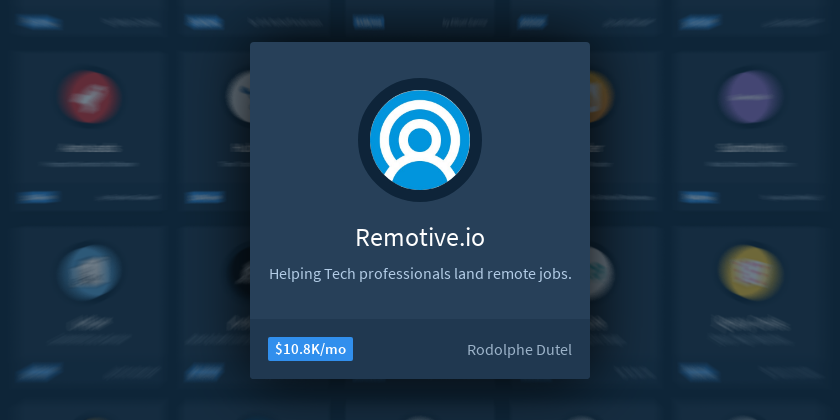 ---
How did 2019 feel?
Overall, great. We executed better than ever before! Finding a recurring model that provides value to all remains our top priority. I listed many worries and questions on my IndieHacker interview linked above :)
Remote work is becoming more main-stream and competitive. We haven't entertained conversations about raising money or even exiting as we're happy with our current setup. Getting investors emails feels like a "neutral proof that we're adding value to people's lives."
Very thankful for the team, our clients and our community! 🙌
What are our plans for 2020?
More resources: Expect more guides, tools and "how-to" articles from us!
More jobs: We'll increase our posting schedule to bring even more posts.
Community first: We'll continue supporting the remote community on Slack, Discourse and elsewhere!
---
Join the Remotive newsletter
Subscribe to get our latest content by email.
Remotive helps you hire remote employees: Hire remotely today!