This is Remotive's round-up of remote work & productivity tips.
August 30th, 2021
In the two years between June 2019 and June 2021, job searches for remote positions jumped 460% in the U.S., according to Glassdoor. Folks do not want to go back to the pre-pandemic cubicle...
-Vic
Our Favorite Articles 💯
> 5 Ways to Reduce Rudeness in the Remote Workplace - Small changes can have a tremendous impact on your team.
> How to Remember What You Read - Awesome tips to engage in active reading and get the best from your reads.
> Workers Say They'd Take Pay Cut to Work from Home - Tech talent is not going to return to the office just like that...
> New Remote First Episode - A heavy-lift is needed for equity in a hybrid workplace, with Samantha Fisher from Okta.
---
This Week Sponsor 🙌
Remeet — Discuss more in less time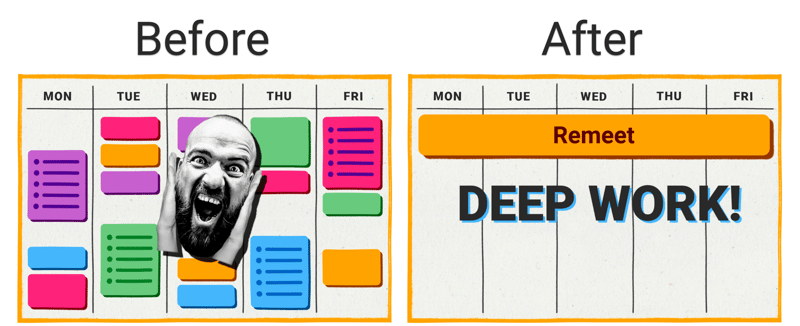 Remeet is the only meeting app that makes your team meetings small, short, and highly efficient. Learn more.
---
Remotive Jobs 💼
Check out our job board, listing 1,903 remote jobs.
> Looking for a remote job? Register your seat for our next webinar happening tomorrow.
> Discover Remotive Community: 1,770 members await...
> Companies, find your next hire on Remotive.

About Remotive
We help tech professionals land remote jobs.
PS: Is your team ready for remote work? Distributed Bootcamp by Oyster is here to help.
Looking to sponsor Remotive? Please email, Q3 and Q4 2021 dates are getting a lot of interest.

Do you ♥ Remotive? Find us on Twitter | LinkedIn
Photo by Nelly Antoniadou on Unsplash